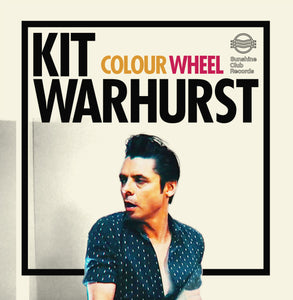 ORDER BY REQUEST - please email shelley@timross.com.au 
"I've done a lot of things. I've played in many bands, recorded many albums, hit the skins,
banged a guitar, written songs, sung bv's, loaded vans, boarded planes, lost luggage and lost
and found my mind. But I've never done my own thing. And I've always wanted to do my own
thing. So now I am."
Kit Warhurst is best known as the drummer in seminal Australian group Rocket Science, but
after the release of singles Nothing In Melbourne and Rose Red City, is now a solo artist in his
own right.
His debut solo album, Colour Wheel, was recorded in Melbourne. Kit both produced and played
all the instruments on the record, capturing them in only one or two takes. The result is an
album that has all the electricity, chemistry and biting authenticity of a band playing together in a
room. The album was mixed by Jeremy Glover (Julian Casablancas &The Voidz, Crystal
Castles, Liars, The Devastations) in Berlin.
The title, Colour Wheel, comes from the album track of the same name. The song is a note to
self to not get entrenched in the every day routines, and instead revel in making art and music.
The album is this idea writ large. Kit began this project as a personal challenge; in order to
produce, he had to shut out the distractions and pressures of daily life to get back to the
simplicity of making music. He wanted to create an existence with a full colour palette and spin
his music making his own way. And somewhere along the way, he hit the jackpot.
The result is an album drenched in irresistible melody, power pop choruses and '70s garage
guitars, all propelled by Kit's astute songwriting. It is also an honest, raw, sometimes
heartbreaking, occasionally brutal, sometimes beautiful record.
In terms of Kit's musical growth, Colour Wheel completes his picture.